Table Tracker gives you the option to tag your tables in one of two ways – under the table, or above the table.
Under the Table
The most popular solution is under the table tagging, where hidden tags adhere to the underside of your tables. These tags are not visible to your customers. Trackers silently read the tags when placed upon the table and broadcast the Tracker's location to appear within the Table Tracker application. Under the table tagging includes comprehensive installation where professionals tag and program the tables with the Table Tracker system.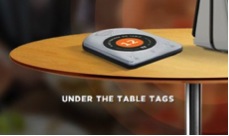 Above the Table
Another option for tagging is above the table in one of two ways – with Tracker Docks, or Table Mats.
Tracker Docks include a basic installation program where Trackers are programmed to associate with specific tables, and are simply placed on the table for customers to rest their trackers upon. Tracker Docks are joined together making them two-sided; and, each set can accommodate up to four trackers, two stacked upon each other on either side.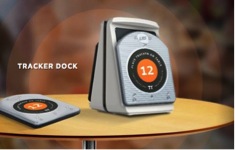 Table Dock dimensions:
Tracker Docks are plastic units with an embedded tag to read Trackers, they are light and easy to manage
The base of the two back-to-back Table Docks is 5 X 4 inches, and rubber feet keep the docks from sliding on the surface of the table
The height of the Table Dock is 6-inches
Table Docks may be separated and attached to a wall with screws in unique cases where an affixed Tracker Dock is needed
The optional table tent to insert promotions extends above the Table Dock 5 and 7/8 inches and is 4 and 3/16 inches wide
The optional clear plastic table tent may be separated to insert promotional printed pieces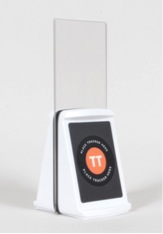 Table Mats are a great option for out-door patio tables or any metal tables. Made of Offered with an optional 2-inch center die-cut hole to accommodate umbrellas, mats lie flat upon the table. Trackers placed upon the mats read the tags when placed upon the mat and broadcast the Tracker's location to the application.
Table Mat dimensions:
14-inches in diameter
Optional die-cut center hole is 2-inches in diameter
Secure attachment options available for out-door mesh metal tables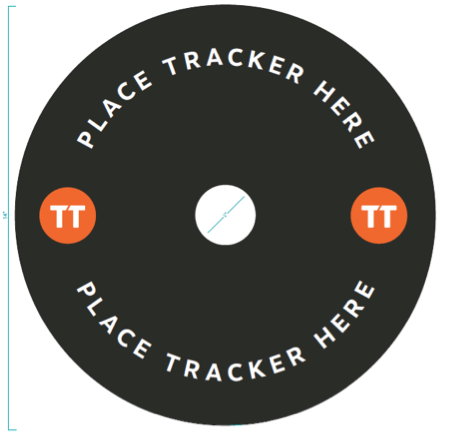 Customization
If you are interested in customizing the labeling of Trackers, Docks or Mats to fit your concept colors, logos, and attitude, customization options are available. Please contact a Table Tracker expert for more information.