Initial Care Instructions:
When the shipment is received from the manufacturer, understand that the pagers need to immediately be put on charge for a minimum of 24 hours. Do not leave the pagers off of the charge for longer than 1 month. After 1 month there is a significant issue with battery degradation.
If the pagers are left on charge for more than 6 weeks – 2 months, cycle the charge time every 8 hours.
Charger Base Instructions:
If the charger bases are stacked next to each other and connected make sure only to use one of the two configurations for charging:
If using only 2 charge bases: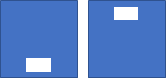 If using more than 3 charge bases: